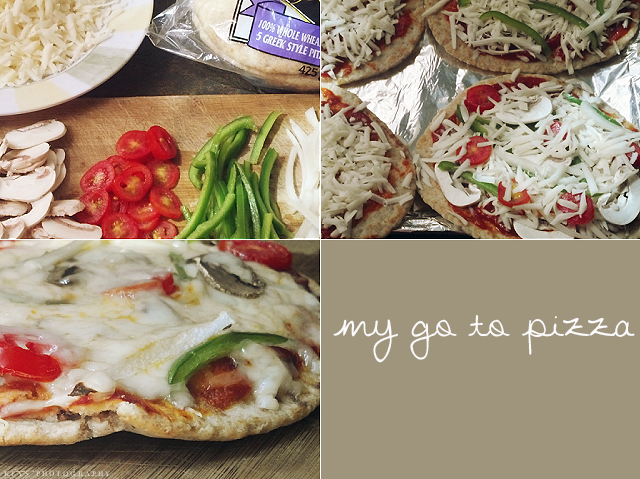 $1.00
Cherry tomatoes for a container of about 24 (
used about 3 of them
)
$1.00
Whole mushrooms for a container of about 15 (
I used two of them
)
$1.88
Siliani low fat mozzarella cheese ball (
used a little less than half
)
$0.79
low sodium pizza sauce (
used a few squeezes
)
Wal-Mart had green peppers for only
$0.57
per pound so buying 3 only came up to
$0.69
so that means 1 was only
$0.23
(
and I used half of one
)
$1.84
WW pack of 5 Greek pita's
$1.00
for bag of onions comes with about 7 (
I used just a little over ¼ of one
)
In the end, what I used came nowhere near $5 and it's an easy healthy spin on pizza. This is my absolute go to whenever I'm craving something greasy and gooey like pizza. Helps save on money AND on a lot of fat, carbs, etc. And of course everything's better when it's homemade!

What are some of your "

go to meals/dishes/desserts

"?